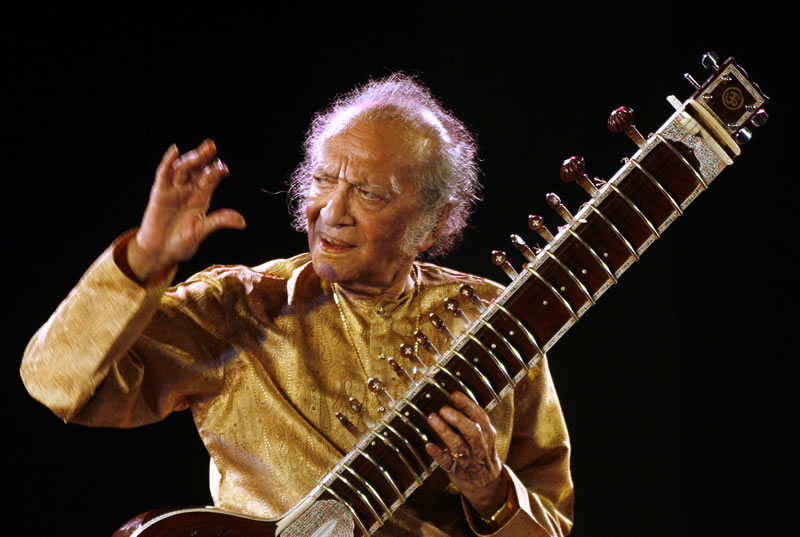 Legendary virtuoso sitarist, composer, teacher, and writer Ravi Shankar was India's most esteemed musical ambassador and a singular phenomenon whose artistry crosses all cultural and musical boundaries. A student of the illustrious guru "Baba" Ustad Allaudin Khan, Mr. Shankar was already one of the brightest stars in India before coming to international attention in the 60's. Since then, he has been the foremost pioneer in disseminating India's rich classical music tradition to the West.
The youngest son of a Bengali family, Ravi Shankar was born in 1920 in Varanasi (Benares), the holiest of Indian cities. At the age of 10, he accompanied elder brother Uday Shankar and his company of dancers and musicians to Paris, where the younger Shankar attended school. He spent several years in the West absorbing different kinds of music before returning to India in 1938 to begin his career. He combined his concert performances with his work for All India Radio (1949–56) where he established the National Chamber Orchestra. As word of his virtuosity spread throughout India, then Europe, Asia and the United States, Mr. Shankar embarked on one of the most extraordinary international careers in the history of contemporary music.
A prolific and sought-after composer, Ravi Shankar has written numerous works for Western collaborations, in addition to his many traditional ragas and talas. His "Concerto for Sitar and Orchestra" was commissioned and premiered by the London Symphony Orchestra under André Previn. A second sitar concerto, "Raga-Mala," (A Garland of Ragas) was commissioned and premiered by the New York Philharmonic under the direction of Zubin Mehta in 1980. In January 2009, Mr. Shankar's third concerto for sitar and orchestra was premiered at Carnegie Hall with the Orpheus Chamber Orchestra featuring his daughter, Anoushka, as soloist. Most recently, in July 2010, the London Philharmonic Orchestra premiered his symphony conducted by his disciple the conductor David Murphy at the Royal Festival Hall.
Ravi Shankar's chamber works for sitar and other instruments includes violin-sitar compositions for the distinguished violinist Yehudi Menuhin and himself, and works for flute virtuoso Jean-Pierre Rampal, shakuhachi master Hosan Yamamoto, and koto virtuoso Musumi Miyashita. Mr. Shankar has enjoyed a close relationship with Philip Glass, collaborating with the composer on the 1990 album "Passages" and the multi-artist work "Orion," which opened the 2004 Cultural Olympiad in Greece.
Ravi Shankar has composed extensively for film and ballet. His scores for Satyajit Ray's acclaimed "Apu" trilogy raised film music to a new standard of excellence, and he was nominated for both a Grammy and Oscar for his original score to "Gandhi," the Academy-Award-winning classic by Sir Richard Attenborough. He made history on both the British and Indian cultural scenes with the ballet "Ghanashyam," which he wrote, composed and choreographed.
Ravi Shankar is the recipient of many awards and honors, including the Presidential Padma Vibhushan Award (1980) and the Award of Deshikottam, given by Vishawa Bharati and presented in December 1982 by Prime Minister Indira Gandhi. He is an honorary member of the American Academy of the Arts and Letters and recipient of twelve honorary doctorates. In 1986, he became a member of the Rajya Sabha, India's Upper House of Parliament. He is a Fellow of the Sangeet Natak Academy and Founder President of The Research Institute for Music and the Performing Arts.
In 1999, the government of India honored Ravi Shankar by awarding him its highest civilian award, the "Bharat Ratna," or "Jewel of India." In 2000, Mr. Shankar received France's highest civilian award, the "Commandeur de la Légion d'Honneur." In March 2001, the British High Commissioner and Lady Young awarded Ravi Shankar the "Honorary Knight Commander of the Most Excellent Order of the British Empire."
Ravi Shankar's extensive discography of more than 60 albums includes Angel Records' 1996 release "In Celebration," a lavishly documented four-CD retrospective of his greatest recordings issued in honor of his 75th birthday, and the 2001 Angel release "Full Circle, Carnegie Hall 2000." This was Mr. Shankar's first live-concert recording in nearly two decades for which he received the Grammy Award for Best World Music Record. Angel/EMI continues to release Mr. Shankar's albums, many of which were previously unavailable on CD.
He is the author of three books: "My Music, My Life" (in English), "Rag Anurag" (in Bengali), and "Raga Mala," (in English), an autobiography that was released in 1999.
Ravi Shankar has been named the "Godfather of World Music" by George Harrison and been given the title "Global Ambassador" by the World Economic Forum. However, there may be no greater tribute paid to this remarkable musician than the words of his colleague Yehudi Menuhin: "Ravi Shankar has brought me a precious gift and through him I have added a new dimension to my experience of music. To me, his genius and his humanity can only be compared to that of Mozart's."
---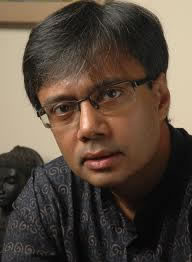 Amit Chaudhuri was born in Calcutta in 1962 and grew up in Bombay. He was a student at the Cathedral and John Connon School, Bombay, took his first degree, in English, from University College London, and wrote his doctoral dissertation on D H Lawrence's poetry at Balliol College, Oxford.
He is the author of five novels, the latest of which is The Immortals, which was a New Yorker and San Francisco Chronicle Book of the Year, and Critics' Choice, Best Books of 2009, in the Boston Globe and the Irish Times. His latest book, published this year in the UK and India, is a work of non-fiction, Calcutta: Two Years in the City. It will be out from Knopf in the US in September. His second book of essays, Telling Tales, came out in the UK in August 2013.
The London Review of Books has said that 'Chaudhuri has already proved that he can write better than just about anybody of his generation', the Guardian called him 'one of his generation's best writers', the Village Voice said he was 'one of the most talented and versatile writers of his generation', and, according to the Boston Globe, 'In the gloriously crowded world of modern Indian fiction, Amit Chaudhuri stands out as a master craftsman who, with exquisite wit and grace, can depict a rapidly changing India in a single life and an entire life in a single detail.' James Wood cited him as one of his three favourite younger living writers in the New York Times, along with Alan Hollinghurst and Ben Marcus.
Among the prizes he has won for his fiction are the Commonwealth Literature Prize, the Betty Trask award, the Encore Prize, the Los Angeles Times Book Prize, and the Indian government's Sahitya Akademi Award. In 2012, he was awarded the West Bengal government's Rabindra Puraskar for his book On Tagore.
Amit Chaudhuri is one of the most influential critics of his generation. His monograph, D H Lawrence and 'Difference' was called a 'classic' by Tom Paulin in his preface to the book, and a 'path-breaking work' by Terry Eagleton in the London Review of Books. His book of critical essays, Clearing a Space, was called the 'best work of criticism by an Indian' by Caravan magazine, India's leading journal of the ideas. In 2013, he became the first person to be awarded the Infosys Prize for outstanding contribution to the humanities in Literary Studies, from a jury comprising Amartya Sen, the philosopher Akeel Bilgrami (Columbia University), the critic Homi Bhabha (Harvard), the South Asia scholar Sheldon Pollock (Columbia), former Indian chief justice Leila Seth, and the legal thinker Upendra Baxi (Warwick).
In his congratulatory address, Amartya Sen, Nobel Prize winner and jury chair of the first Infosys Prize for the Humanities, said: 'He is of course a remarkable intellectual with a great record of literary writing showing a level of sensibility as well as a kind of quiet humanity which is quite rare. It really is quite extraordinary that someone could have had that kind of range that Amit Chaudhuri has in terms of his work and it could be so consistently of the highest quality.'
Chaudhuri is a Fellow of the Royal Society of Literature, a Fellow of the English Association, and was a judge of the Man Booker International Prize. In 2008, a Guardian editorial about him appeared in the newspaper's famous 'In Praise of…' series, the first time an Indian writer was so honoured. In its editorial, the Guardian called him 'a publisher's nightmare' for his artistic impulses and experimental tendencies.
His first novel, A Strange and Sublime Address, is included in Colm Toibin and Carmen Callil's Two Hundred Best Novels of the Last Fifty Years. His second novel, Afternoon Raag, was on Anne Enright's list of 10 Best Short Novels in the Guardian. He is Professor of Contemporary Literature at the University of East Anglia, and is editor of the Picador/ Vintage Book of Modern Indian Literature. He has one book of poetry, St Cyril Road and other poems. He is a musician, a singer in the North Indian classical tradition, with two HMV India recordings, as well as being a composer and performer in experimental music. His second CD in this genre, Found Music (EMI; Babel), was an allaboutjazz.com Critic's Choice of 2010. He has performed on most flagship cultural programmes on UK radio and television. Martha Kearney, introducing him before a musical performance on the Review Show on BBC television, called him 'upsettingly multi-talented'.
---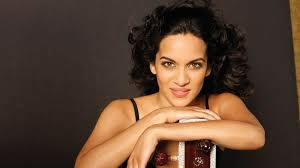 Sitar player and composer Anoushka Shankar is one of the leading figures in World Music today. She is deeply rooted in the Indian classical music she studied exclusively from the age of nine under her father and guru, the legendary Ravi Shankar. In her twenties, after establishing herself as one of the foremost classical sitarists on the world's stage, she began thriving as a composer, exploring fertile ground in the crossover between Indian music and a variety of genres including flamenco, jazz, electronica and Western classical music. Among various accolades she has been thrice nominated for a Grammy® Award and was the youngest, and first female, recipient of a House of Commons Shield from the British House of Parliament in 1999. As a classical sitarist Anoushka Shankar debuted professionally at the age of thirteen and has performed in prestigious venues such as the Royal Albert Hall and Carnegie Hall (over a dozen times), and championed her father's orchestral works with the world's leading orchestras under conductors such as Zubin Mehta. Before turning twenty she made three classical sitar records for Angel/EMI under the guidance of her father, and received her first Grammy® nomination, thereby becoming the first Indian female and youngest-ever nominee in the World Music category.
In 2011 Anoushka signed to the prestigious classical music label Deutsche Grammophon, and released her sixth album, Traveller, a critically hailed exploration of Indian classical music and Spanish flamenco. This was the third in a series of breakthrough experimental albums from Anoushka, following 2005's self-produced and Grammy®-nominated Rise, and 2007's Breathing Under Water, a collaborative venture between Anoushka and multi-instrumentalist and composer Karsh Kale. In support of Traveller, Anoushka created an ensemble of flamenco and Indian musicians and went on tour, doing over ninety concerts presenting this new music across multiple continents. Traveller earned her a third Grammy® nomination and also a Songlines Best Artist award.
In 2013, Anoushka released Traces of You, having enlisted the help of multi-award-winning musician Nitin Sawhney to produce her music. As good friends they worked closely together, coaxing out some of the most intimate and daring music Anoushka has yet released. The music exists in an undefinable space between genres, always with the Indian music Anoushka loves so dearly at its roots. Traces of You features Anoushka's half-sister Norah Jones as the sole vocalist on several songs and showcases Anoushka's ever increasing versatility and lyricism on the sitar.
Over the years Anoushka has maintained creative careers outside of music: in 2002 she authored the book Bapi: The Love of My Life, a biographical portrait of her father, and she has served as regular columnist for New Delhi's First City magazine and the Hindustan Times. She also earned a Best Supporting Actress nomination from India's National Film Awards for her role in Dance Like a Man in 2004.
Anoushka's career reflects her aim to constantly learn and grow as an artist. As Nitin Sawhney has written, "No one embodies the spirit of innovation and experimentation more evidently than Anoushka Shankar."
---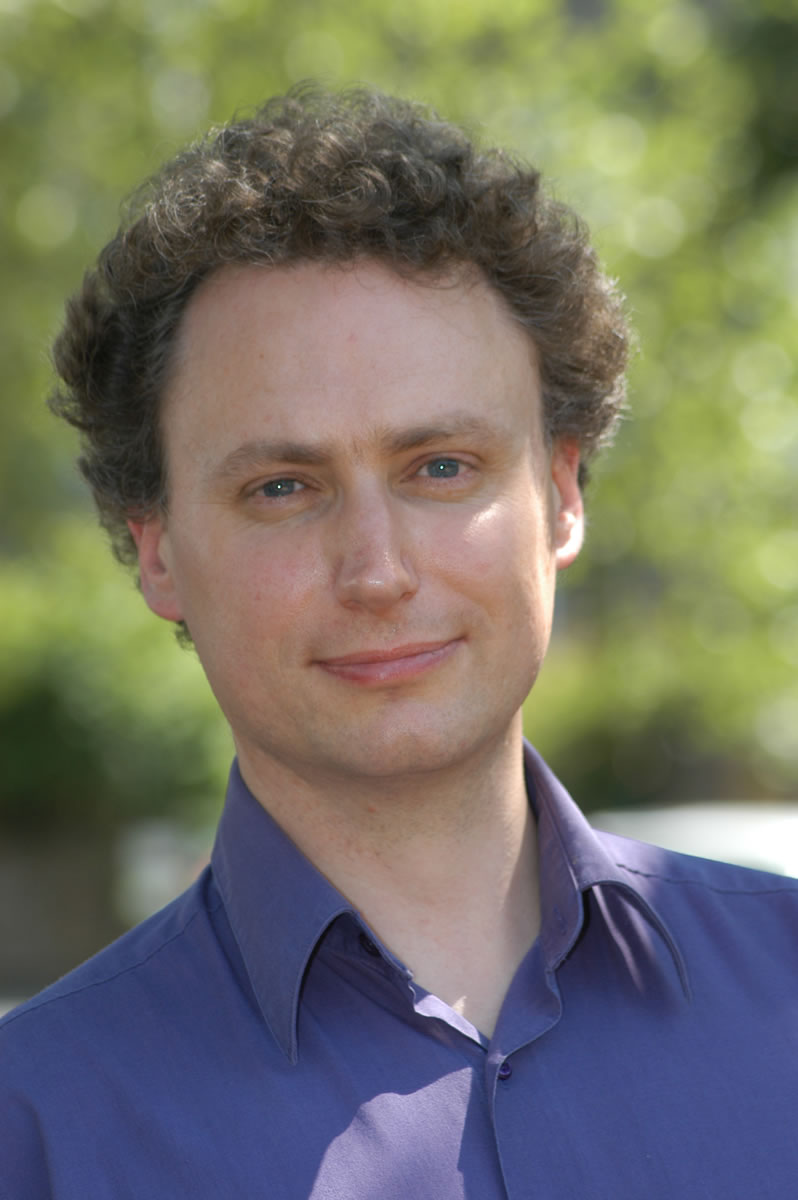 Born in Pembrokeshire on the west coast of Wales, David Murphy began his musical studies as a violinist. Within a few months of study he had won a local music competition and was subsequently awarded a full scholarship to the renowned specialist school, the Purcell School.
David was an award-winning student at the Guildhall School of Music and Drama in London, where he studied violin, viola and chamber music with members of the Amadeus Quartet. During this time, David performed as soloist and chamber musician throughout Britain and Europe and also studied baroque and classical violin with Catherine Mackintosh. He subsequently enjoyed two very happy years as a graduate teaching assistant at Wichita State University, where also began conducting studies with Dr Jay Decker.
His conducting debut occurred at a moment's notice: a conductor was suddenly indisposed and David was the only member of the orchestra with a baton in his case. The experience was a revelation and prompted the decision to undertake full time conducting study beginning with at Tanglewood with Seiji Ozawa.
He completed his studies with Leon Barzin in Paris. David had the great privilege to be Barzin's last student, living and studying intensively with him during the summers Barzin spent in Europe from 1993 until his death in 1999. Through this relationship he is fortunate enough to have a direct link to the great conductors of the early Twentieth Century, notably both Toscanini and Furtwängler – a training unique for a conductor of his generation.
Two other legendary mentors were subsequently central to his development as a musician: the conductor Sir Charles Mackerras and the sitar maestro and composer Pandit Ravi Shankar. David's music- making contains a unique blend of these very potent influences: from Barzin the musical philosophy and techniques of the "golden age" of conducting, from Sir Charles Mackerras cutting-edge scholarship, and from Pandit Ravi Shankar the spontaneous creativity and spiritual perspective of Indian music.
He is currently at the forefront of the development of a new "Indo-Classic" musical genre which aims to tap into the common roots of both Indian and Western music. This quest was supported by Arts Council England and has since included concerts and recordings with the Scottish Chamber Orchestra, London Philharmonic Orchestra, Sinfonia ViVA and the London Sinfonietta.
He has been very active in bringing music to new audiences and to young people. His education projects culminating in young people taking the stage with the professionals, often performing a work they have created together.
His most recent Royal Festival Hall concert contained an important premiere and marked his South Bank debut with the London Philharmonic Orchestra. This programme featured the world premiere of Ravi Shankar's Symphony alongside works by other composers Shankar has profoundly influenced, including Philip Glass and John Adams.
A popular guest-conductor, David has performed on four continents. His debut in South Africa was televised on SABC, and this has led to a series of engagements with the South African Orchestras, from Beethoven Symphonies with the Johannesburg and Kwa-Zulu Natal Philharmonic Orchestras to outreach work with children and choirs from the Townships. He recently conducted a highly successful run of Mozart's Cosi fan tutte at the Longborough Festival, made his London Opera debut with Holst's Savitri and made his Far-Eastern debut, performing Beethoven's Ninth Symphony with the Seoul National Symphony Orchestra, in a concert for world peace broadcast on both Korean and Japanese television. He recently toured Russia and Poland conducting the London Chamber Players in sell out concerts in St Petersburg Conservatoire, Tchaikovsky Hall, and the Great Hall of Moscow Conservatoire and, at the climax of a recent Spanish tour at the Auditorio Nacionale in Madrid.
He conducted Samaagam, a ground breaking collaboration with Ustad Amjad Ali Khan and the Scottish Chamber Orchestra at the St Magnus and City of London Festivals and on a pioneering tour of India which also featured symphonies by Beethoven and Mozart, heard in some Indian venues for the first time. He went on to record Samaagam for the harmonia mundi/world village label. His critically acclaimed Royal Festival Hall debut with the Royal Philharmonic Orchestra included Janáček's Sinfonietta and a ground-breaking performance of Sibelius 2nd Symphony using the original source material. He is a Fellow of the Royal Society of Arts.
---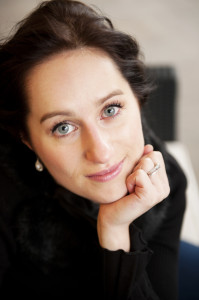 Susanna Hurrell (Soprano – Sukanya)
Susanna Hurrell was born in London and trained at the Royal College of Music and the National Opera Studio with Patricia Rozario and Jeffrey Talbot.
During her studies Susanna was the recipient of several awards including a Miriam Licette scholarship, a Peter Hulsen Orchestral Song Award, a Countess of Munster Award and a Sybil Tutton Award. She also won the RCM English Song competition, the John Kerr English Song competition and the Dean & Chadlington competition.
In 2011 Susanna performed the role of Rose Maurrant in the critically acclaimed production of Street Scene, for The Opera Group with conductors Keith Lockhart (BBC Concert Orchestra) and Tim Murray (Southbank Sinfonia) and recently participated in it's revival at the Théâtre du Châtelet, Paris, and the Liceu, Barcelona. Her other operatic roles include Cephisa, Orpheus (Classical Opera Company) Euridice, Orpheus in the Underworld (RCMIOS), Rossane, Alessandro (London Handel Festival) Amarilli, Il Pastor Fido (LHF), Serpetta, La Finta Giardiniera (Opera de Baugé) Papagena, Die Zauberflöte (RCMIOS), Nymph, Euridice (BYO) and the title roles in Rodelinda (LHF), and Patience (RCMIOS).
In opera scenes she has sung Zdenka, Arabella, Ilia, Idomeneo, First Lady, Die Zauberflöte, Sophie, Der Rosenkavalier, Ophelie, Hamlet, Gretel, Hansel and Gretel, Governess, The turn of the screw, Female Chorus, The rape of Lucretia and Elizabeth, Elegy for young lovers. She has also studied the roles of Susanna, Le nozze di Figaro, Pamina, Die Zauberflöte and Adina, L'elisir d'amore.
Notable concert performances have included the premiere of David Oppenheimer's Deborah with the Southbank Sinfonia at the Rose Theatre, Haydn Nelson Mass with Andras Schiff, Handel Messiah at the Royal Albert Hall, Fauré Requiem at the Royal Albert Hall (recorded by EMI), Pergolesi Stabat Mater at the Queen Elizabeth Hall with the Orchestra of the Age of Enlightenment, Kurt Weill: From Berlin to Broadway with Keith Lockhart and the BBC Concert Orchestra, Rossini Petite Messe Solemnelle with David Parry at the Southrepps Classical Music Festival, Britten Les Illuminations at the Linbury, Royal Opera House, Strauss Four Last Songs with the Misbourne Symphony Orchestra, and operatic hits for the Proms 'Out and About' event with the BBC Symphony Orchestra.
In collaboration with trumpeter Simon Cheney and pianist Sebastian Wybrew, she appears on the cd 'An English Trumpeter', which features five songs for voice, trumpet and piano by contemporary composer Gordon Carr. Also with Sebastian Wybrew accompanying her, she was awarded the Grange Park Opera Aria prize at the Hampshire Singing Competition.
Recent engagements include Britten's Les Illuminations with the English Chamber Orchestra at Cadogan Hall, and the cover of Rodelinda for Scottish Opera. She is currently making her Royal Opera House debut as Erisbe in Cavalli's L'Ormindo at the Sam Wanamaker theatre, and looks forward to playing Euridice in Kasper Holten's production of Monteverdi's Orfeo at the Roundhouse later this year. She makes her mainstage debut for the Royal Opera House in 2016.
---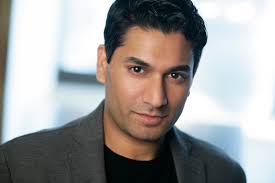 Alok Kumar, Tenor – Chyavana
The 2016-2017 Season is one of several company debuts for Mr. Kumar including Covent Garden with the Royal Opera House and the London Philharmonic Orchestra creating the role of Chyavana in the world premiere of Ravi Shankar's opera Sukanya, Don José in Bizet's Carmen with Michigan Opera Theater, Florida Grand Opera and Musica Viva in Hong Kong, a reprisal of the Duke of Mantua in Palm Beach Opera's production of Verdi's Rigoletto and il Barbiere in New York City Opera's production of Respighi's La Campana Sommersa. Most recently, Mr. Kumar performed Don José in Bizet's Carmen in New York with stage director Bernard Uzan. He returned to Connecticut as the tenor soloist in Dvorak's Stabat Mater with the Fairfield County Chorale before returning to Vermont to debut as Macduff in Verdi's Macbeth under the baton of Emmanuel Plasson. He concluded his season with a series of summer concerts with the Bay Atlantic Symphony featuring Italian operatic repertoire. In the recital forum, Mr. Kumar unveiled a solo recital of Romani-influenced art song at the Ware Center in Lancaster, PA before singing a benefit concert at the Lucas Theater in Savannah, GA featuring works by Puccini, Bizet, Verdi and Massenet. Notable events from previous seasons include debuts at Canada's le Domaine Forget International Music Festival and at the Sanibel Music Festival in Florida, a debut at the Walt Disney Concert Hall in Los Angeles, a concert of French operatic excerpts in France under the direction of Michel Plasson, his portrayal of Pinkerton in the excerpted love duet from Puccini's Madama Butterfly with the Cincinnati Pops/Cincinnati Opera led by John Morris Russell and a debut as the tenor soloist in the New York premier of Stephen Paulus' To Be Certain of the Dawn at Carnegie Hall's Stern Auditorium. An avid collaborator of new musical works, Mr. Kumar premiered the tenor solo in the Thomas Cabaniss Cantata My Song is a Fire and collaborated with director Scott Schwarz and librettist Marc Aceto in Jeffrey Stock's musical adaptation of E. M. Forster's A Room with a View. Mr. Kumar recently recorded the role of Jesus of Nazareth in Marcos Galvany's operatic tableaux Oh My Son with members of the Washington National Symphony and Washington National Opera Orchestra, members of the Washington National Opera Chorus and the Washington National Cathedral Children's Choir. Mr. Kumar performed the role of Jesus in the work's European premier in Spain and reprised the role at the Walt Disney Concert Hall. Mr. Kumar has appeared with the Santa Fe Opera, Austin Lyric Opera, Asheville Lyric Opera, Opera Delaware, Cedar Rapids Opera Theatre and Portland Opera Repertory Theater amongst others and has most frequently portrayed leading roles in the operas of Bizet, Puccini and Verdi. As a solo concert artist, he has appeared with symphonies and orchestras in Spain, California, Connecticut, Maryland, New Jersey, New York, Rhode Island, Texas and Massachusetts, including in Symphony Hall with the Boston Pops for the Richard Rodgers Centennial and in Sanders Theater with the Greater Boston Youth Symphony Orchestra under the baton of Federico Cortese. Mr. Kumar's festival appearances include the Italy's Spoleto Festival, Canada's Le Domaine Forget International Music Festival, Florida's Sanibel Music Festival and Colorado's Crested Butte Music Festival. Mr. Kumar is a member of the state bars of Massachusetts and New York and maintains a law practice. Born in India and raised in the Hudson Valley, he resides in New York City with his wife.