The Royal Opera House, Covent Garden
The Royal Opera, under the direction of Antonio Pappano, is one of the world's leading opera companies. Based in the iconic Covent Garden theatre, it is renowned for its outstanding performances of both traditional opera as well as commissioning new works by today's leading opera composers such as Harrison Birtwistle, Mark-Anthony Turnage and Thomas Ades.
Some of the most famous singers of all time have performed with the Company including Plácido Domingo, Angela Gheorghiu, Anna Netrebko, Renée Fleming, Bryn Terfel, Jonas Kaufman, Rolando Villazón, Juan Diego Flórez, as well as the late Luciano Pavarotti and Joan Sutherland.
The Jette Parker Young Artists Programme, founded in 2001, offers exceptionally talented professional singers a tailored programme of coaching and performance opportunities and many of its graduates are now seen regularly on the international stage.
The London Philharmonic Orchestra
The London Philharmonic Orchestra is one of the world's finest symphony orchestras, balancing a long and distinguished history with a reputation as one of the UK's most adventurous and forward-looking orchestras.
As well as giving classical concerts and opera performances in the UK and internationally, the LPO record film and video game soundtracks, have their own record label, and reach thousands of people every year through activities for schools and local communities.
The Orchestra was founded by Sir Thomas Beecham in 1932, and since then has been headed by many of the great names in the conducting world, including Sir Adrian Boult, Bernard Haitink, Sir Georg Solti, Klaus Tennstedt and Kurt Masur.
59 Productions
59 Productions is a leading international film and new media production company which specialises in design, film making and integrating the moving image into live environments. For over a decade, we have worked in theatres, opera houses, museums, galleries, arenas and stadiums, exploring ways to use video projection and other technologies to create extraordinary live experiences.
In 2012, 59 Productions provided the animation and video design for the London 2012 Olympic Opening Ceremony, forming part of the small creative team led by Oscar-winning director Danny Boyle. The ceremony was seen by over a billion people worldwide and was nominated for a BAFTA Audience Award.
Earlier this year, the company completed its first major museum design project – the David Bowie is Exhibition for the V&A Museum. The exhibition was the most successful in the museum's history, drawing over 300,000 visitors in just 5 months. The exhibition is now embarking on a world tour.
Recent stage productions include include Big Fish (Broadway), Les Miserables (Cameron Mackintosh – world tour), Satyagraha (ENO / Metropolitan Opera) and War Horse (National Theatre / West End / World Tour). Alongside these stage-based projects 59 operates a successful film production unit, and in 2012 released Joseph Pierce's animated short The Pub, which went on to win top prizes at a dozen of the world's leading short film festivals. Our current short film, Beat, starring Ben Whishaw is in competition world wide, and recently won the European New Talent Award at Encounters Film Festival. 59 has feature film and television projects in development with Film 4, Clerkenwell Films and Comedy Central.
Curve Theatre, Leicester
Curve is one of the country's leading producing theatres.
Our artistic team is led by Paul Kerryson, our Artistic Director, who plans, develops and quite regularly directs our productions. The artistic team also put together creative teams, such as designers (set, costume etc), musical directors, choreographers, sound designers, lighting designers, as well as casting the actors for the production.
The Designer, working closely with the Artistic Director creates the look and feel for the show and builds a 1:25 model of the set for reference for the workshop. More often than not these sets are then built at outside workshops and finished/constructed here at Curve although sometimes, as in the case of One Flew Over the Cuckoo's Nest and Buried Child, they are created in our workshop space. We have an in-house audio visual suite and recording studio where video material and sound effects can be created and we also have a wardrobe department where costumes are made and maintained throughout the run of a show.
Throughout Leicester Theatre Trust's 38 year history we have produced a wide range of productions, and have been perhaps best known for producing musical theatre. From On Your Toes, which transferred to London and Japan I 2003/4 to The King and I, which opened here at Christmas 2010, and opens a UK tour in Edinburgh in December 2012, Chicago, West Side Story, Godspell, Seven Brides for Seven Brothers, Carousel, The European Premiere ofThe Light in the Piazza and Hot Stuff, and the numerous works of Stephen Sondheim.
We also produce and co-produce a range of other genres, from dark contemporary drama such as The Pillowman, to classic and comedic drama such as Absurd Person Singular by Alan Ayckbourn, contemporary dance (recently we worked closely with Akram Khan Company on 3 co-productions, all of which were devised and world premiered here in Leicester) and children's theatre, such as Mr Stink by David Wailliams and The Butterfly Lion by Michael Morpurgo.
We also enjoy and encourage regular work with the local community, focussed around our annual Community Production. Aspiring actors and performers have the opportunity to audition for a part in these productions, and those that are successful, then work with the professional teams in the theatre to create a production for everyone to enjoy. Being part of a Curve community show helps develops skills, community spirit, and an understanding of the role the arts has to play in society, for everyone who participates, whether as actors, technicians or audiences who come to see the show.
Norwich Arts Centre
Stimulating Audiences – nurturing creativity.
Norwich Arts Centre provides a vibrant mix of cultural experiences. Nurturing creativity and emerging talent across a range of art forms. The Centre presents a stimulating, imaginative programme to a diverse audience.
Firmly established in the heart of Norwich's cultural community, NAC plays a key role in the delivery of a programme of live music, theatre, live art, comedy, live literature, new media and photography twinned with a commitment to creating opportunities for the development of new talent.
The converted church (originally built in 1349) houses an auditorium able to cater for seated and standing events with many original features of St Swithin's Church in tact. This allows NAC to undertake a diverse live programme covering rock and pop, world, jazz and folk music as well as rising comedy stars, performance opportunities, children's theatre and creative workshops.
The Ravi Shankar Foundation
Established in 1997, The Ravi Shankar Foundation's goal is to foster peace through music. With its educational initiatives to increase awareness of Indian Classical Music and the Gurukal system of learning, its preservation efforts to archive the vast works of Ravi Shankar, and its dedication to East-West world music collaboration, the Foundation supports core artistic creativity and freedom. www.ravishankar.org
East Meets West Music
East Meets West Music is the official recording label of The Ravi Shankar Foundation. With unique access to an archive featuring thousands of hours of live performance audio, film footage, interviews, and studio masters, EMWMusic releases rare recordings and provides audiences with the definitive portrait of Ravi Shankar's long career. And, in keeping with Ravi's dedication to looking forward and not back, EMWMusic provides a vibrant platform for new artists, projects, and collaborations. www.eastmeetswestmusic.com
The Bagri Foundation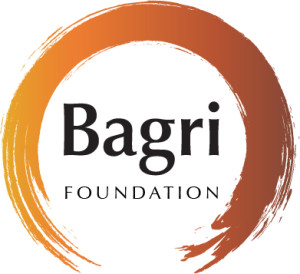 The Bagri Foundation is a UK registered charity whose principal aims include the advancement of literacy, education and the arts, as well as the appreciation and understanding of Asian cultures. The foundation runs rich and diverse cultural programmes and collaborates with other organisations to further its own charitable objectives. www.bagrifoundation.org
Supporters
Diamond
Anonymous
Harry Bagwandeen
Joe Wright
Gold
Scott Eisman
Ruby
Oliver Craske
Neil Shore
Jill Smith
Emerald
Helen Adams
Enrico Alvares
Julia Barker
Frank Gautier
Bickram Ghosh
Alan Kozlowski
Shyam Mohan Gupta
Henning Nilausen
Pedro
Sapphire
Nick Able
Leon Bosch
Mark Brenner
Gary Haber
Rita Horiguchi
Ville Keynäs
Sameer Manglani
Matthew
Gaurav Mazumdar
Raj Pindoria
Alagappan Ramaswamy
Adam & Carol Shutkever
Jo and Steve Simpson
Bob & Rani Tatter
Team Food Chain
CM Venkatachalam
Aditya Verma
Shekar Viswanathan
Stephen Scott
Ashish Shah
Jeremy Smith
Stelio Stefanou
Silver
Mehul Agarwal
Sagar Barua
Johnny Bates
Sharon Cavanagh
JesusFreke
Nishad R Gadgil
Matt Giannotti
Saw Tiong Guan
Guro Nagelhus Schia
Harsimran Sethi
Murali Sharma
Opal
Richard Barker
Anu Jayanth
Carol A. Kennedy
Mimi King
Peter Lavezzoli
Shubhendra Rao
Supriya Shah
Simon Smith
Barry Phillips
Bronze
Kafkas Caprazli
Bruna Dias
Bodhi Heeren
Axel Hinze
Louis Lee
Lars Martin
Lisa McGilben
HMS Oberoi
Don Perrault
Nicola Ramsden
Sharon Robinson
Richard John Selby
Mangala Srinivas